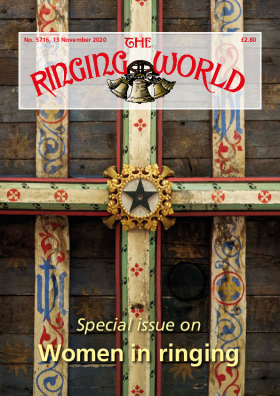 We are very excited and proud to have produced a special issue of The Ringing World devoted to exploring women in ringing from many different points of view. 
Read about the first ladies' peal, the first women to ring Cambridge Max in hand, the first women to join the College Youths since the war era - oh yes, long skirts, cups of tea, beautiful peal records and quotes from amazing women!
And more - get tips on how to ring a bigger bell, take your first steps in conducting, and the benefits of pushing past your own reticence and just trying things.
Discover the Ladies Guild, find out what kind of tower captain you are, and how to make your practices more parent-friendly.
Finally, how do you ring in a floaty skirt?  and other wardrobe malfunctions.....
Buy a copy, share a copy, but definitely read a copy.  (View or purchase your copy here:  https://bb.ringingworld.co.uk/issue.php?no=5716)